The Power is You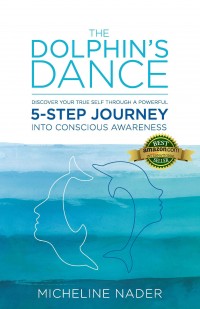 The Dolphin's Dance: Discover Your True Self Through A Powerful 5-step Journey Into Conscious Awareness takes you on a journey to reconcile challenges with your true self and purpose. Sharing her intense, personal path, Micheline Nader has crafted a guide for anyone eager to unearth the stumbling blocks that prevent you from having the life you want.
Simple exercises lead you through the necessary steps to reinvent your own life by removing limiting thought patterns that keep you from fulfilling your vision.
Micheline guides you with her 5-step process that follows the acronym D.A.N.C.E: 1) Discover Your Emotions; 2) Awaken to Your Beliefs; 3) Name Your Patterns; 4) Cancel Your Polarities; 5) Embrace Your True Self
Enhanced with stories of Micheline's own journey to self-awareness and empowerment, the steps clearly lead you to a more conscious and present life. Thousands of people have reported life-changing results after practicing Micheline's transformation process.
What Others Are Saying:
"The Dolphin's Dance is a gift and resource I share with my patients. It thoughtfully and carefully guides us through the layers that enshroud us and contribute to illness. It makes the road to self-awareness accessible."
– Karen Koffler, M.D., Medical Director of Health & Wellness Canyon Ranch Hotel & Spa
"Micheline brings a clarity to the journey of transformation and healing by showing us how to look deeper into our own consciousness. She is a generous and authentic example of the processes she presents. Her heart and soul are all over each page and her healing journey is deeply inspiring."
—Rev. Frankie Timers, Spiritual Director, Center for Spiritual Living
"I wish I could write a prescription for this book for every woman and man who has experienced hurt, trauma, or serious disappointment, and setbacks as a result. It would go a long way towards lessening the burden on our mental health care system. I give this book my strongest recommendation."
—Donnica L. Moore, MD, President, Sapphire Women's Health Group; Editor in Chief of Women's Health for Life
Watch the Book Trailer: