This Year's Best Leadership Book: Leap Beyond Success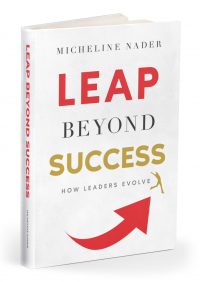 Have you attained success but feel like something's still missing? Do you have a knee-high list of regrets about your career or business? If so, you're not alone. In LEAP Beyond Success, CEO and philanthropist Micheline Nader introduces LEAP—Lean, Execute, Align, and Program—a transformational system designed for leaders who want to accelerate their growth and impact.
Building from the groundbreaking ideas in the bestseller, The Dolphin's Dance, this latest book describes what lies beyond success, offering a wealth of knowledge for leaders ready to leverage their passions and master the arts of self-development and social impact. This reflective, thought-provoking work gives you the tools to overcome the past, create a new future, and go beyond yourself to grow by leaps and bounds.
Whether you're kick-starting your career or looking for a fulfilling way to cap it off, LEAP Beyond Success is a must-read guide for those ready to take their leadership—and their lives—to the next level.
WHAT OTHER LEADERS ARE SAYING
"This work is awesome! A step-by-step guide to developing leadership skills by interweaving business acumen, innate passion, and a clear sense of purpose."

—Nicholas Galakatos, PhD, Global Head of Blackstone Life Sciences
"What if consciousness could evolve at the same rate as science and technology? Micheline Nader assures us it can and must for the good of humanity. Her transformative work guides us to 'LEAP' to create a lasting legacy and a better future for all."

—Joanna Shields (Baroness Joanna Shields OBE), CEO of BenevolentAI
"In LEAP Beyond Success, Micheline Nader draws on her own rich experiences leading and coaching leaders to take the engaged reader on an extraordinary journey of self-awareness and personal transformation. Nader's reflections on leadership are always insightful and stimulate thought, but LEAP Beyond Success goes beyond to provide a clear four-step approach for those looking to grow from personal success to creating a better future for all. Purpose is at the heart of this approach that applies to professionals across a variety of professions and industries." 

—Deepak Hegde, PhD, Professor of Management, New York University Stern School of Business
"For individuals looking at leading a purpose-driven career and life, this book is for you. Written by a sincere, accomplished, and humane leader in Micheline Nader, it will help you achieve meaningful personal and career success as you leap forward into your future life and sustainable legacy."

—Fadlo R. Khuri, MD, President, American University of Beirut