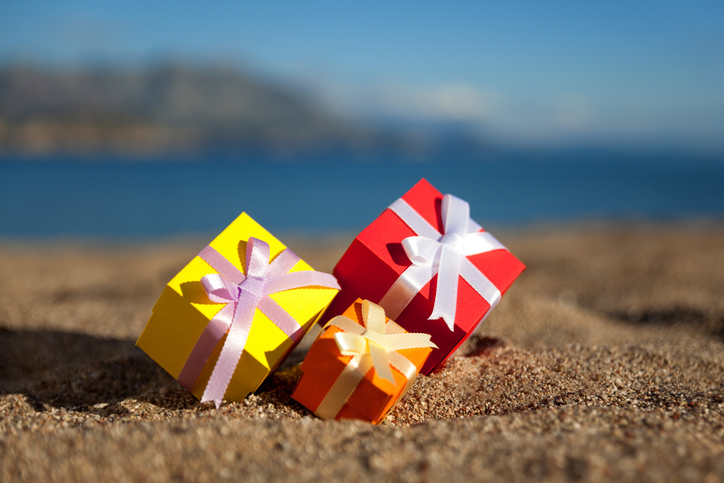 December is here! As I walk around, I can't help but marvel at the beautiful lights adorning the trees, the colorful wreaths, and lit branches on doors. Christmas trees are populated with wrapped gifts of all color. Not to mention, the many holiday parties that are in full swing to celebrate the giving and receiving of the holiday season.
There are fourteen religious holidays celebrated in December around the globe with the most known being Christmas and Hanukkah. Many interfaith families have embraced the spirit of Christmas because of its beautiful worldwide message.
While giving and receiving is sacred in many religions and cultures, most of the giving and receiving these days is focused on material gifts. This act of generosity and distributing goods is a noble one, but it seems that the true meaning of this season has been lost. While offering gifts to loved ones is a touching way to give thanks, the holiday's spirit of joyful sharing often is replaced with stressful duties.
I would like to share three gifts from the heart that bring back the sacred art of giving and receiving. These three presents restore the excitement of gifting, uplift your mood and those around you and are transformative in nature.
These "T.L.C." gifts will not only delight your loved ones well past this season, but they also offer a transformative shift in your relationships:
1.    Time:  Many of us feel overstretched, especially during this time of year! We barely have time to do what needs to get done, much less spend quality time with our loved ones. Ironically, there really is no better gift than giving your time and your attention to those you love. Your loved ones are longing to spend quality time with you. They want your attention and you're active listening for even just thirty minutes. If you can't take time during the holiday, you can schedule time for them in the near future.  You can go for a walk, a cup of coffee, or take a day to explore your city. The time we have with loved ones is precious – and we are never guaranteed another day. So, schedule some time with someone special in your life. Taking this gift of precious time applies to you as well, so make sure to include some time for yourself.
2.     Love:  I am sure, like most of us, you have had your differences with those you love most in your life. But, there are so many positive feelings you have about your loved ones that sometimes get overshadowed. Writing a love letter focused on three things you love most about the people you care about creates a new possibility for a loving relationship between you. This is not the time to say, I love you, but…   Even if you've been hurt in the past, your gift to your loved ones with this letter is only to share at least three things you love about them.  And this gift is not just for romantic relationships. You can also write a love letter to your babies to share with them when they grow up! If your loved one has passed, you can write a letter as if he or she were still right beside you.
Simply Love! Love is selfless, and love is about giving to others what you want them to give you. Love starts with you, so write yourself a love letter this holiday and don't forget to mention the three things that you love about yourself. This is a great way to begin the New Year.
3.    Clarity: This is a gift overlooked by almost all of us. When we are stressed and overwhelmed, we become tired and lose focus about what's really important. A way to gain clarity in your life is to create the space for some relaxation. How do you offer this gift of clarity to others? You certainly have to start with yourself. There are many tools out there to help you. As for me, I use my Clear Lagoon audio meditation every morning to make sure I stay focused on what really matters. This also helps me stay present with those I love.
I am offering my Clear Lagoon guided audio meditation to you for free during this holiday season. This audio helps you create a safe haven for relaxation and for deep self-discovery work. This is a place where you can regenerate and restore your sense of well-being and gain clarity about areas in your life that leave you feeling confused, lonely or sad. You are invited to share this guided audio with anyone you feel could use some relaxation and clarity in their lives.
These gifts will transform your relationships far beyond the holidays and cost you nothing! To honor both the giving and receiving of this season, here are my T.L.C gifts for you:
I dedicate time to share important things that matter to me, and I know matter to you. I am committed to answering your questions and listening to you actively through Facebook, workshops and emails. I love you for allowing me a platform to do what I love. I love you for being a network of like-minded individuals who I cherish. I love you because you engage with me through your likes, comments and questions. I am giving you the gift of clarity through my Clear Lagoon audio meditation for free to enjoy and share with your loved ones. To use this audio, visit my website and sign up for my monthly newsletter.
I wish you a healthy, happy and joyful holiday season!